It's a Wrap - Syracuse Wins the 2007 - 2008 Golden Snowball Award
Congratulations Syracuse, Winner of the 2007 - 2008 Golden Snowball Award!
Syracuse has held off Rochester and Buffalo down the home stretch to win this seasons contest by only 3.1 inches of snow. It was a close race throughout the season with a late great final charge by Buffalo and Rochester to narrow the lead to within just a few inches. Rochester and Buffalo are the only two cities that hit their average snowfall for the season by the way.
The picture below is from Eric a dedicated Syracuse Crunch Fan and the Snow Crunchie was built by Eric and his 12 year old daughter. I think the picture also sums up the end of the contest. Thanks to Eric and his daughter for sending it in and just click it to enlarge it. Go Crunch in round 2 of the playoffs!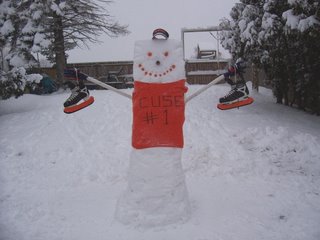 It's a Wrap!!! There is something about writing those three words that give me goose bumps when I type them each year. I think it comes down to the contest being behind us but better yet so are the cold snowy months. Nice weather is either here or just around the corner and it's here for several months. It's a Wrap means no more snow for several months (Lets Hope).
I think it really comes down to is that
It's a Wrap
means we all survived another New York State winter and it's time to bring on the warm sunny days of Summer.
Hats off to The General (aka - Steve Madsen from Buffalo) for doing an awesome job helping out this season at GSB and to all the visitors new and old that made it another fun season while passing away the cold snowy months. Look for a summary of the 2007 - 2008 season to follow in the next few days.
From the General:
Well it's pretty much official, Syracuse has won the GSB contest AGAIN! sigh... maybe next year Buffalo, maybe next year... When I think about it though, Buffalo has won more GSB awards then the Bills and Sabres combined in winning throphy's... well anyone who has won more than zero awards has done better then the Sabres and Bills... sigh... another year in Buffalo history.... "Maybe Next Year... Maybe Next Year"...