Finally Going to a Syracuse Women's Basketball Game
Afternoon Update -
I just got back from a great SU womens basketball game against Cincinnati, The Picture says it all!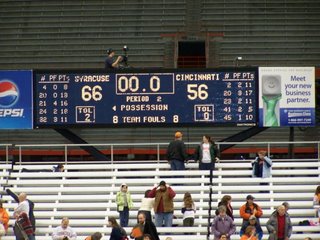 Great Game Ladies and
Congrats on Your Number 20 Win of the Season. GO CUSE!!!
I've been trying to catch one of the Syracuse women's basketball games for over a month now and today is the day and I'm pretty excited. This is a good team and hopefully they'll get their 20th win of the season while I'm there. To be honest I haven't been to a women's basketball game in a long time and I think that was at Manley. Most likely they are NCAA bound and now it's just a matter of what seed they can win their way into. Good Luck today ladies and GO CUSE!!!
Another bust yesterday as far as the storm went for CNY and western New York. Only an inch here and there being reported as of about midnight last night. Here are the totals for yesterday and they are pitiful to say the least. Albany was the big winner with Binghamton runner up. It will be interesting to see what the final totals were for the coastal cities. I was hoping this storm would have at least put most of us over our average totals for the season but that didn't happen.
Albany - 3.4
Binghamton - 2.6
Syracuse - 1.8
Rochester - 1.6
Buffalo - 1.5
I'm off to yell, scream, stand and cheer on the SU ladies now. Have a super weekend all!