2007 - 2008 Snowfall Prediction and More
Just a quick night time post - My daughter Danielle just sent me a few Oswego snow pictures from Suny Oswego this evening. It looks like the snow band is starting to shift a little to the south and is now in Fulton. Wouldn't it be nice if it could come farther south to the Syracuse area so I can take some pictures???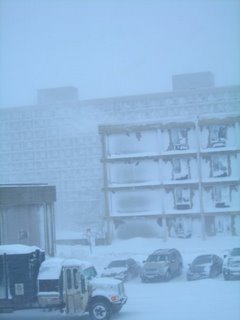 Yup, and more!!! It doesn't get anymore exciting than this does it? First off We moved the forum a couple of weeks ago in hopes of stopping the spammers and I just wanted to let everyone know that you are more than welcome to join the new one. The forum is a good place to check out what weather is coming our way and also some good updates as to what the weather is doing in all the cities as it's actually happening. It's been a little slow lately due to the snow or should I say lack of snow but it always picks up when the weather gets pumping. All of the members that visit and post are fantastic people and fun. We have a couple of meteorologists that keep us updated along with several students and the group is of all ages. In other words your not going to find a better group of people than at the GSB forum. You can join the forum at
http://www.222goldensnowball.com/yabb/
Note REMOVE THE 222 from the website address.
Our 2007 - 2008 Snowfall Predictions
I was just looking at the Generals and my own 2007 - 2008 winter predictions and the General who is really Steve Madsen from Buffalo is looking pretty good right now compared to me. I still think we have a lot of snow coming our way but the way this season has been going lately with too many warm ups and freezing rain events I have to admit I'm a little concerned about hitting my snow totals for some of the Golden Snowball cities. Here are both the Generals and my own forecast for this seasons snowfall.
The Generals 07-08 GBS Predictions:
Syracuse - 125
Buffalo - 105
Rochester - 95
Bingo - 85
Albany - 65
Pats Golden Snowball 2007 - 2008 Predictions
Syracuse -151 inches
Buffalo - 123 inches
Rochester - 121 inches
Binghamton - 106 inches
Albany - 72 inches
Will there be another Valentines Day storm? Lets hope not for the fact that a lot of plans had to be canceled and the kids had a snow day last year and didn't get to have their Valentines day fun. It's looking like this year it might come a couple of days before Valentines day. I'm hearing and reading about a storm coming sometime tomorrow. Remember last year all of the cities got some snow and Binghamton had close to 17 inches and a couple of other cities picked up over a foot of snow. So far they aren't calling for that much, only 3 - 6, 4 - 8 inches is a good possibility for most of us which is just a dusting compared to what Oswego and the north country had been getting. Anyways, keep an eye on the weather for tomorrow because it could be getting a little nasty and I'm sure all of the local meteorologists will be keeping us all up to date as it comes closer.
I've been checking out the Suny Oswego webcam at
http://www.oswego.edu/webcam/index.html
quite a bit the last couple of days and no doubt it's messy there to say the least. I'm not sure what their totals are up to from the lake effect snow that they are getting hammered with but it has to be pretty high. It's a pretty big and intense band that has been just hanging over the north. Here is a picture I just got off the Suny Oswego cam at about 3:00 pm. On a normal day (whatever that is) that picture would be crystal clear.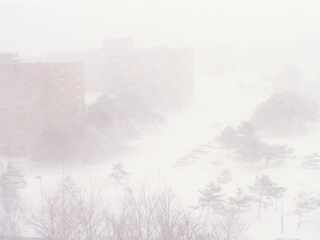 I was hoping it would have dropped south enough last night and come down to Syracuse. Well it didn't happen so Rochester remains within a tiny storm away from taking the lead and in reality all of the cities still have a shot at the Golden Snowball trophy. Have a great day everyone!