I Think the Picture Says it All
Snow in Texas, Virginia, Maryland, Louisiana and the list goes on and on. The picture below pretty much says it all when it comes to most of the Golden Snowball cities :( As I was taking that picture about 10 minutes ago a few flakes did start to fall but the chances are it won't be adding up to anything. What stands out the most in the picture of the flowers is that here we are on December 5th and not only are there flowers on the plant but new buds just keep coming and coming.
I suppose it's kind of cool I guess but I think all the snow lovers would like to see them burried under a few feet of snow.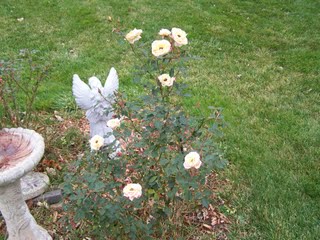 Here is a short video of the rainbow that was earlier in the week in the Syracuse area. It was actually a double rainbow but I didn't catch that. Gotta love it. Have a Super Day All!