The Golden Snowball Trophy
The A-1 Trophy Shop created the golden snowball trophy in 2003. Being the procrastinator that I am I never got downtown to see it. Finally at the news conference on Thursday, (which by the way I missed on the news stations, any video of it online?) I got to see it. The trophy is nice to say the least and the crystal golden snowball on top is breath taken. The reflection of tints of gold and the crystal that reflects everything in the setting around really left me in awe. A-1 trophy did a fantastic job of coming up with something special.
Below are a few more pictures that my daughter and I took. Unfortunately neither one of us did too good of a job so the pictures don't do the trophy justice but will have to do until I get some more. Channel 9 also gets a free plug. As for Binghamton and Albany not being listed on the trophy, don't worry Dennis has assured me they will be added and thanks again Dennis for including me in the event. It was fun! Click on the pictures for full views.


Dennis Brogan Speaking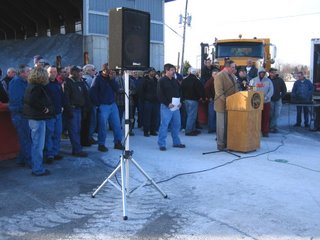 The Snowman Trying to Mumble His Way Through It
Some of Syracuse's Finest DPW Workers
Hopefully there will be some better pictures coming soon. Have a great weekend all!