Binghamton Looking to Break Snowfall Record This Weekend
Or should that read Binghamton looking to break NO snowfall record this weekend. Daver mentioned in the forum that Binghamton is about to tie their record for the latest date that they have gone without any measurable snowfall. Look above and you can see they are showing zippo for the season. Dave said the record for no snowfall this far in the season for Bingo goes all the way back to December 1st, 1964. No snow in the forecast for tonight so they should at least tie the record and if they can avoid any snow that the cold front moving in later Friday might bring us then they have a good chance of breaking the 1964 record. Just think, Buffalo broke all kinds of records for earliest TONS of snow totals and Binghamton could break the NO snow record. It's going to be an interesting season for sure.

Of course if Binghamton was smart they might want to get moving right after they tie or break the record because as it stands they are tied with Albany for dead last in the Golden Snowball contest and trailing Buffalo by over 2 feet of snow before Winter has even started. I am still so pumped up about this years contest. With Buffalo having that big of a lead I'm thinking that none of the other GSB city's are going to catch them until at least sometime in January. It will be fun to watch how it all plays out though.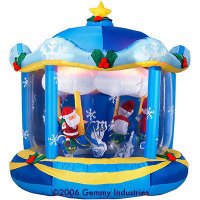 Click here to check out the new Christmas inflatables